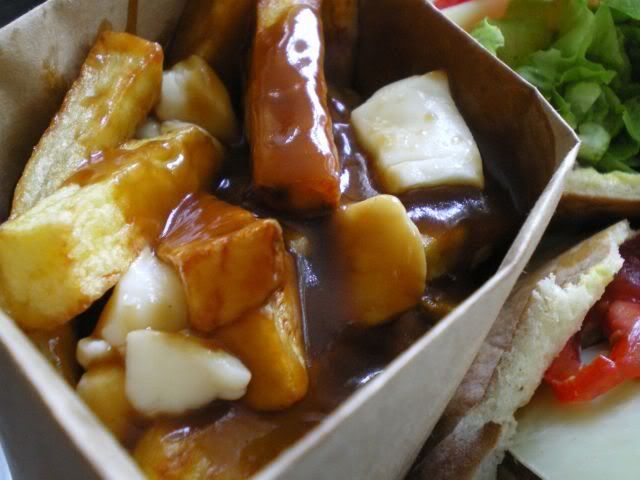 Montreal Poutine Recipe
makes 4 side servings
or 2 main servings
4 large russet potatoes
oil for deep frying
salt
2 cups beef stock
1/4 cup butter
1/4 cup flour
1 1/2 cups cheese curds
1. Peel and slice the potatoes into thick fries (at least 1 cm thick).
2. Soak the potatoes in ice water for about 30 minutes. Remove and drain well.
3. Heat oil for frying to about 325F and deep fry potatoes for about 8 minutes.
4. Remove from oil and set on paper towel. Turn the oil up to 375F.
5. In a saucepan melt the butter and stir in the flour. Add the beef broth and stir over medium-high heat until thickened. Reduce heat and keep hot. (I use a tiny bit of gravy browning to get that nice dark colour).
6. Return the french fries to the oil and continue frying until golden and crispy. This should take about 5 more minutes. Remove fries to drain on paper towel and salt to taste.
7. Assemble the poutine quick while everything is still HOT. (Poutine is best made in a bowl or other container which will contain the heat and help melt the curds. Also, the curds should be at room temperature before assembling the Poutine). Start with a layer of fries. Put some cheese curds in the middle. Add more fries and top with more cheese curds.
8. Ladle gravy over the fries and cheese curds.
I had heard about poutine a while back from some Canadian Researchers on my husbands ship. So on this trip to Montreal my husband and I found it everywhere even Burger King...lol. We actually tried the Burger King version as well as the well publicised Montreal Poutine. It was actually very good. Its simple to make and would be perfect with Beer and Bowling.