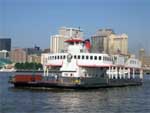 The Ferry from Algiers
Sitting on the ferry from Algiers , I watch the people making their commute. Most off to work dressed in cooks gear. Tourists off to see the sights, a rough one or two looking to steal or fight.
Landing on the New Orleans Bank. We all depart in quiet unison. Thru the ferry station to the streets and the trolley. All going our anonymous separate ways, different people, different lives, but just another Day.
Bella
Nov. 20 , 2008